Ladies and gentlemen of the great city of Stouffville, we are in the midst of yet another rousing fall season. The trees have been colorful for some time now, and we here in Stouffville have been enjoying this cool, breezy, sweater weather life to the fullest. Pumpkin patches and buying too much Halloween candy have been present in our lives for some time now, and all we can think is when is the other shoe going to drop? When are we, the denizens of Stouffville, going yo see that first frozen flake that will unofficially (because fall officially ends on December 21st) mark the end of fall?
We can feel it in the air, can't we fellow people of Stouffville? The nights are getting much colder, the sun is rising later and setting sooner. Before we know it, those beautiful colorful walkways and hiking trails we've gotten so used too over September as well as October will be replaced with a blanket of white, wet precipitation. What was once known as sweater weather will be quickly replaced by full on jacket and snow pants weather. Fall activities we can enjoy will be switched out with a few select winter activities.
Yes, we are fast approaching the coldest time of the year, winter. As previously mentioned, we here in Stouffville are soon going to have to face the inevitable – the full force of the freezing season. However, before we are thrust into that aforementioned freezing season, we have one little stop we get to make.
We're of course talking about the holidays! A time of the year that is called "the most wonderful" for a reason – because of how much joy it brings to everyone we know. Those colorful fall displays that nature gives us, the ones we're so incredibly fond of? We're going to get them once more, but this time they won't be natural. They, dear Stouffville, will be made by one's neighbours, one's friends, and one's family. Hopefully, they'll be made by oneself as well!
But, putting up outdoor holiday lighting can be a bit of a pain in the butt. Yes, we all know how great the end product looks. Yes, it is most likely a family tradition that has been passed down from generation to generation. Yes, it is a great example of when a family, a community, a small town like Stouffville comes together to make something beautiful.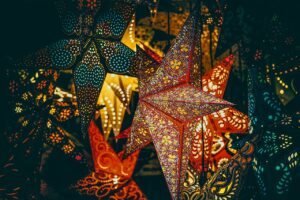 However, that doesn't distract from the fact that the actual act of putting up outdoor holiday lighting can be a bit of a chore. Heck, some may even say it's a lot of a chore. Heck again, some may say it's the worst chore they have to do every winter. It's cold, there's a lot of heights one may not even want to touch and it's a chore that doesn't really even benefit the person who's living there. They just have to take it down the moment New Years is done anyways!
We know it can be kind of a pain, but imagine all the aforementioned joy one could bring by putting up outdoor holiday lighting. We know it's a chore, but imagine the feeling of community one might feel after seeing the entire street lit up. So today, we're going to try to make the job of putting up outdoor holiday lighting a little easier. We're going to go through all the tools one may need to put up outdoor holiday lighting, so that one won't have to go through everything. And hey, always remember – there are professionals out there who have the tools necessary to do this job.
Tool #1: The Ladder
This could be one of the most important tools to use while putting up outdoor holiday lighting, as it allows the average homeowner, landscaper or gardener access to places they may not have had before. Should one want to put outdoor holiday lighting up on a high tree, or their roof, or some other high place they are going to need a ladder to do it.
One must be careful, however. While ladders can allow access to places we could never get too on our own, they are a double edged sword. With that new access to high places comes a serious downside: the chance of getting injured.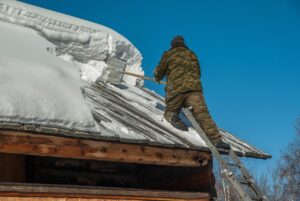 Ladders become much more dangerous during the holiday season. Why? The ground is more slippery and harder, so falls from a long height would hurt more. Not to mention the surfaces on which a ladder might lean are going to be slippery as well.
When one is putting up a ladder, and especially when one is climbing up that ladder they need to be ultra careful. Have someone stand at the bottom of the ladder, make sure it's secured and most of all don't make too sudden of movements. The last thing we'd want is for any of the homeowners, gardeners and landscapers who read these articles to get hurt this holiday season.
Tool #2: Extension Cords
These are integral to the outdoor holiday lighting setup. We've all had to deal with outdoor holiday lighting before, and we know how small the ends of their cords can be. We also know that there tend to be a severe lack of outdoor outlets that we can use.
With the use of extension cords, we can reach outlets we never thought possible. We can go into the garage, heck we could even go into the house if need be.
However, just like ladders, extension cords are no laughing matter and can be very dangerous. There are a couple of things one has to look out for when putting lights into extension cords, then plugging those extension cords into the wall. For one, we should always make sure that they're in open spaces, not being crushed by anything so that they don't catch fire or get damaged. Damaged extension cords in general must not be used, as they can be serious fire hazards. Also, try not to run these extension cords through open water, as getting them wet as well could be dangerous.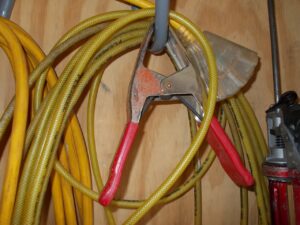 These aren't all the tools one could use while putting up Christmas or holiday lighting, but it's a good start. Once more, those who don't want to have to go through the trouble of collecting these tools – let the professionals do it for you!