Unfortunately, denizens of Stouffville, it seems that summer is coming to an end. Before we know it, gone will be the gorgeous greens of today. A distant memory will be the beautiful blues that we see when we look out our windows. And that glorious sunshine? It will be replaced by dull, lifeless greys.
However, the future is not as bad as we may think – fall is still going to be upon us, and fall is one of the most beautiful seasons for those of us who live in Stouffville! It's an orgy of colours – yellows, reds, oranges, a veritable fireworks display provided by nature.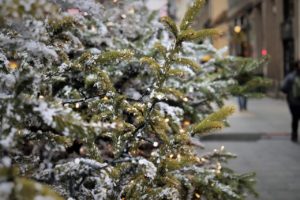 And then (speaking of veritable fireworks displays) we come to the beginning of winter. Yes, that season is filled to the brim with those dull, lifeless greys we touched on earlier, but there is a season before that for many, especially those in Stouffville, is a saving grace. We are of course talking about the holiday season.
Yes, the holiday season. One of the most glorious and the main reason why people enjoy winter. It's a time that, while it may be cold and grey, is a great opportunity for everyone to sit inside, enjoy the heat and spend some time with loved ones. One of the greatest parts of the holiday season is, of course, the outdoor holiday lighting.
Wether one knows them as outdoor Christmas lights, or outdoor holiday lighting, the sentiment remains the same – when they are seen by the naked eye, one is immediately bedazzled by their beauty and their shine. One can not help but get caught up in the gorgeousness of the outdoor holiday lighting, especially everyone who lives in Stouffvile.
Today, we're going to be talking about the pros and cons of outdoor holiday lighting. Are there a lot of cons, one may be asking. Well, we'll have to see. Keep in mind, for those people of Stouffville (or anywhere else, for that matter) who don't want to put up holiday lighting themselves, we here are happy to do it!
The Pros Of Putting Up Outdoor Holiday Lighting
To start, we're going to talk about all the reasons a person would want to have outdoor holiday lighting. There are many, some of them may be selfless, and we're going to talk about all of them today.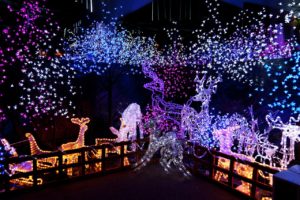 Outdoor Holiday Lighting Spreads Cheer
One does not have to be religious to enjoy outdoor holiday lighting. It's simple – a bunch of pretty colours that adorn the homes of one's community. We here in Stouffville tend to do the holiday lighting very well, and one can not help but admire all the hard work that gets put into the outdoor holiday lighting all around town.
Those colours we talked about earlier? One cannot help but think of the warm feelings that come to one's heart when they see the beautiful colours associated with outdoor holiday lighting. Purples, blues, reds, whites – pretty much any color one can think of will show up when they think of outdoor holiday lighting.
Now, we return to this chapter in the article – anyone would want to spread this kind of feeling, right? To know that one is giving their fellow members of community the same feeling they get when they see other outdoor holiday lighting is in itself it's own reward, right? Spreading cheer is what the holiday season is about in general, and outdoor holiday lighting is one of the best ways to do it.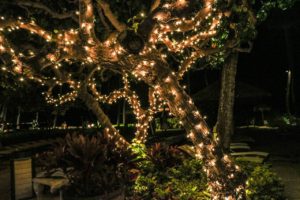 Putting Up Outdoor Holiday Lighting Is A Great Way to Spend Time With The Family
Yes, we understand putting up outdoor holiday lighting can be a chore. It's one of the few winter chores homeowners, landscapers and gardeners actually have to do, so frankly it's kind of a pain in the rear. But don't think of it as a chore – think of it as an excuse to spend time with the family!
Most of us can remember cold Stouffville days with our families in our youths. Untangling lights, helping our parents climb up ladders so they can staple the things onto the roof, admiring all the work when it's done. In our minds it's a scene out of a movie, and in many ways it was one. This is the kind of thing that has become a tradition in most families, and for good reason. It's an excuse to get everyone together working on the same goal – putting up a marvellous outdoor holiday lighting display.
And when the job is done – stand back, plug in the outdoor holiday lights and marvel in their beauty. Not only will the community be thankful, but one's family would be thankful as well.
The Cons Of Putting Up Outdoor Holiday Lighting
We struggled to think of many cons past one, but we think we managed to think of a couple here. So, without further ado, here are the cons of putting up outdoor holiday lighting.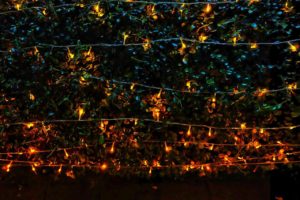 Putting Up Outdoor Holiday Lighting Can Be A Pain In The Rear
Like we said earlier, it is a chore, and chores can really stink. Yes, it's a great memory to create with one's family (as previously mentioned) however the time spent putting up outdoor holiday lighting can be spent doing other, less labour intensive holiday activities.
Luckily, there are companies (such as our own) that take the pressure off of families during the holiday season. Instead of the average homeowner, gardener or landscaper having to put up their own outdoor holiday lighting, we can do it for them!
And so, this article about the pros and cons of putting up outdoor holiday lighting has come to an end. We learned a lot about outdoor holiday lighting though, didn't we? We learned that putting up outdoor holiday lighting spreads cheer to the entire community. We also learned that while it can be a fun tradition to do with the family, it can also be a pain in the rear. So this year, instead of wasting time putting up one's own outdoor holiday lighting, spend the time with family instead. Hire us, and we'll do it happily!