We are in the midst of yet another summer, fellow denizens of Stouffville. Well, we say "in the midst", but really it is unfortunately coming to an end. We are in August (at time of writing) so anything else we need to accomplish this summer we need to do as soon as possible. Still need to take that cottage trip? Load up the car and go! Still want to make it to an outdoor concert? Buy those tickets! And as for all the landscapers, gardeners or homeowners out there, time is running out to finish that project that they have been putting off since the spring. 
But, as we all know, the right tools are needed for the right job. We have explored some of the tools one is going to need to do their landscaping work at home, but what about the others? Last time, we talked about all the tools that we man-powered – shovels, rakes, etc. Today, we need to discover a couple of things about the landscaping tools that are mechanical. We are going to be going through a journey of all sorts of different tools – stuff that every landscaper, homeowner or gardener should have in their repertoire. Yes, some of these items may break the bank a little bit, but they are also integral to the arsenal of every homeowner, landscaper or gardener. So, without further ado, here are the best mechanical tools for summer landscaping. 
Lawn Mower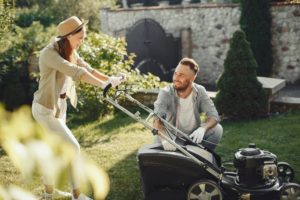 This is one of the most integral of the mechanical landscaping tools, if not the most integral. It's so integral we have in fact done a whole article on the importance of choosing the right lawn mower, so we'll try to be brief about this truly important mechanical landscaping tool. 
Think about it this way – what is the most prevalent thing in any yard? For those who guessed grass, they would be right. A well maintained lawn is the backbone of any good property – wether it be just a backyard or a full on acre of land, having a good looking lawn is the beginning to having a great looking ensemble. There are a bunch of different types of mowers (again, covered in our article about lawn mowing) however it's all about the size of the property owned by the homeowner, landscaper or gardener. The smaller the property, the less powerful one has to go for when choosing a lawn mower. The smaller properties may not even need one that's mechanical (although we would always recommend one, if not the job tends to get a lot harder).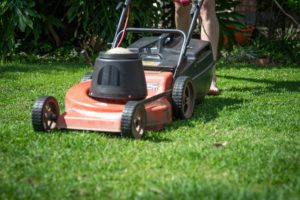 Because this piece of landscaping equipment or landscaping tool is so important, one may want to spend the majority of their landscaping budget on this. For gardeners as well as homeowners, we mentioned that the majority of the property is going to be a lawn, so they'll want to go with something that's going to last. For landscapers themselves, there is a decent amount of money to be made in the lawn mowing business. If one was looking to expand, lawn mowing may be a pretty decent place to start. Either way, having a good lawn mower will mean that