And so, we here in Stouffville find ourselves in the midst of yet another fall. For those out there who love fall – this is great news! There is so much to do in fall when it comes to living in Stouffville, and the fall lovers out there couldn't be happier. They get to go out to pumpkin patches, they get to mess around in leaves – not to mention all the colors that are going to flash in the eye of every denizen of Stouffville. By the colors we of course mean the trees, they are going to start turning soon and the people who can't get enough of fall could not be happier.
However, there are some out there who have a more cynical mindset. Who, instead of seeing a beautiful colour display provided to them by Mother Nature herself, tend to see the leaves turning as a bad omen. They see it as the beginning of the season that is devoid of all colour, of the season that means the summer and by extension, the great weather, is truly over.
Yes, we are of course talking about winter. That most desolate of seasons that promises nothing to most, and little to few. All that these cynics can truly look forward too is the spring… well, the spring with a little stop of true joy beforehand.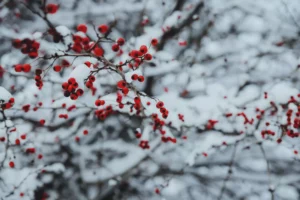 We are of course talking about the holiday season! Yes, it is a time where everyone (especially those of us who live in Stouffville) can forget about the winter to come and focus solely on bringing happiness to others! And what is one of the best ways to bring happiness to others? Why, with an outdoor holiday lighting display of course!
Sometimes they're known as Christmas lights, sometimes they're known as holiday lights, but all the time they're known as beautiful. It is truly the greatest distraction from the winter – the dull greys the winter brings are instead replaced by a gallery of beauty – blues, reds, greens – even the whites of the Christmas lights shine through in the darkness of the season. It is one of the best times of the year (which is probably why it's called "the most wonderful time of the year) and we personally could not be happier that it has come once again.
Everyone loves to put up holiday lighting – it's a great activity to do with one's family and even if one is doing it alone, it can still bring so much joy to the community. But why should one stop at just the holiday lighting? Why not push the holiday lighting display as far as it will go? Today, we're going to be talking about the best compliments for a holiday lighting display. No, not compliments like "wow, that looks great" or "those lights look beautiful" (although those are great compliments) were instead going to talk about the different things that could work as good accents to a holiday lighting display. We don't want to spoil what's going to be in the article, so instead we're just going to plow forward with it! Without further ado, here are the best compliments to a holiday lighting display! Oh, and for the record – all those who don't want to go through the hassle of having to put up their own holiday lighting should probably just let the professionals do it!
Wreaths
We've mentioned wreaths before in articles about things to do besides outdoor holiday lighting, however they work as great accents to any outdoor lighting display. They can be hung pretty much anywhere too – on doors, off of trees, heck, one can hang them off of rocks or on random poles!
Our advice – the best place to put a wreath is on a door or on a windowsill. This is probably the most traditional place to put a wreath, and for good reason. It looks great, and not much else can hang safely off of a door.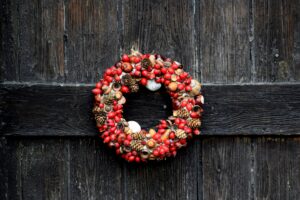 But, like we said, there are many other places that the average homeowner, landscaper or gardener can put their wreath during the holiday season. For those that may want to hang them out of trees – this is a really cool idea, however one may want to get some wire or twine. Heck, a combination might even work – use a string of outdoor holiday lighting to hang one's wreath from a tree, and then wrap that wreath with that very same outdoor holiday lighting! The possibilities are endless!
Pre-Made Decorations
There are a lot of different options when it comes to pre-made decorations. There are those plastic ones that, while there may be some assembly required, come looking great out of the box once they are put together. And, they last for a very long time if they're kept in good condition! Here's the issue – they A) tend to take up a lot of space in one's storage, and B) they tend to get lost in the darkness of the winter night.
There are those pre-made decorations which we have mentioned before – decorations that are kind of made up of Christmas lights. These share a lot of the benefits of the aforementioned pre-made Christmas decorations, however they have one added bonus. They light up when the winter nights get dark! Here's the issue however – they also tend to take up a lot of space, also these holiday decorations tend to be pretty expensive.
The final option one can go with if they're looking for pre-made decorations is one of those blow-up decorations. These are a great addition to any holiday lighting display, and they tend to alleviate the issues of the previous two. They are easy to store (just deflate and put away when the holiday season ends) and a lot of them light up in the night these days.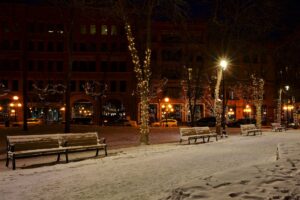 In the end, a holiday lighting display should be up to the homeowner, landscaper or gardener who owns that property. However, always remember this – at the end of the day, there are professionals out there who not only do this for a living, but enjoy every moment of it!